Category —
Provence
Thanks to well-connected friends, we were invited to a truffière (truffle farm) to enjoy the action of finding truffles. With truffle season at its peak (and the high-demand mushroom selling at markets for about 800€/kg!), this was an opportunity we couldn't pass up.
The first surprise was that it was indeed hunting, and not at all like when you pick mushrooms. Truffles grow underground on the roots of oak trees and they are found by smell. We went "hunting" with a specially trained truffle dog that was raised from birth to smell the truffles. Puppies from proven truffle dogs sell for 5,000€ each!
The next surprise was how easily the dog found the truffles. For us, the hunting part was keeping up with the dog, since he found truffles faster than they could be picked up, brushed off, sniffed, and admired. The dog would smell a truffle, dig until the truffle was uncovered enough for the handler to gently remove it, yap non-stop until he got his treat (usually a piece of sausage), and then run off for his next find.  The truffle farmer normally does this every other day during the season which lasts from November to March.
Of course, being in France, every hard afternoon's work must properly end with the very famous and much appreciated (and well-deserved?) apéritif. Our group gathered at the truffle farmer's house for a couple of bottles of wine and some truffle sniffing, while we judiciously selected the one(s) we wanted to buy. We choose a very, very small one. We paid well below market, but it was still très cher.
So why are truffles so expensive? It turns out that growing truffles is very much like gambling for the farmer. Some farms produce truffles on more than half of their trees while others don't produce anything at all.  The farm we went to had 180 trees but only a dozen produced the beloved mushroom, giving a yield of less than 10% (this is not unusual). All trees were planted with truffle spores at their roots, and the soil condition was supposedly perfect for production. The trees at this truffière were 15 years old, and some started producing truffles only last year. So a farmer wants to keep every tree, even the non producing ones, as they may suddenly produce in just one more year. It's the never-ending hope for the French version of  "black gold".
March 14, 2011 3 Comments
It was during our usual school day morning rush that I noticed a pink notebook lying in the driveway. It took a while to register that the notebook actually belonged in my purse, and then it took a few more moments for my brain to understand that SOMETHING BAD WAS GOING ON.
Lying in the driveway was my empty wallet, next to my empty purse, with various pens, lipstick, paper, and the other stuff that used to be inside the purse. What was not there was money or credit cards.  We'd forgotten to lock the door that night and someone had come into the house while we were sleeping and stolen my purse.
It took almost an hour to cancel all the stolen ATM and credit cards, and then we called the police to report the robbery. I frankly didn't expect much. The cards were canceled, it wasn't that much money, they hadn't taken my driver's license, and all other important papers were still in the house.
But the gendarmes were impressive. They were at the house about 45 minutes after we called, and took the whole thing very seriously. They asked if I'd touched the purse and were disappointed that I had contaminated the evidence. Of course I know you never touch anything at a crime scene, but it even never occurred to me that they would bother for a petty crime like this.
JM was checking around the perimeter of the house with one of the policeman, and the other one asked me to show him were I had found the purse that morning.  With bad French and lots of charades I indicated where I had found everything. That took us to the end of the driveway where I stopped, but he kept heading across the road to the field on the other side.
Just like a modern Inspector Clouseau he found more clues!
He showed me the tire tracks in the field where the thief had parked, and then said something that sounded like "let's find your credit cards". I thought probably I hadn't understood his French or maybe he hadn't understood that THE CARDS WERE STOLEN. They were gone, and I had canceled them.  But he followed the tracks around the field and a few minutes later voila! we found all of the missing cards.
Of course, the cards were all useless at that point, but they were not contaminated. The police pulled out a massive metal toolbox-thing. One of them took a swab while that other took a picture of the swab being taken. I have watched enough police dramas to realize they were establishing a chain of evidence. They asked for our contact information both here and in California so they could reach us when they found the thief. I liked their confidence that they would actually catch the guy.
In the end, we lost the equivalent of a couple hundred euros, and I have the inconvenience of a couple of weeks of living without my own credit and ATM cards. It could have been much worse. If they had taken my driver's license or gone further into the house and found the laptops or (I can't even imagine) gone into the girls' room…
Thankfully we were robbed by thieves that were not vindictive. But from now on I will store the backup credit/ATM cards in a different location than the main ones. And we will carefully lock the doors every night!
January 29, 2011 10 Comments
Not every day is perfect in Provence, but yesterday morning came pretty close. The weather has been just lovely, and as I left the house the sun was shining, the sky was blue, and the smell was clean.
My first errand was to take the garbage out. There is a garbage and recycling station a couple of hundred meters down the road, a slight downhill walk with a lovely view.
Next stop – pick up the bread order at the village cafe. As I walked the valley stretched out on my left with a clear view of the neighbouring village.
Our village is quite lovely – a collection of rock houses built into a rocky face halfway up the hill. There are just two roads in the village, so today I took one to go to the cafe and one to come home.
The village has evolved over time, so none of the buildings are the same, and you can't tell from the outside how things are connected on the other side of the walls. It makes for some very dramatic roof lines and lovely little nooks between the houses.
I stopped to check out how the construction was going at the Mairie (town hall). They are building a new salle des fetes (community hall) at a site on the outskirts of the village, but for some reason tore down the old salle des fetes before even breaking ground on the new one. Ping pong classes have been canceled for the rest of the year since there is no longer any place to set up the ping pong table. L is deeply disappointed.
From the Mairie to the cafe is a short but steep uphill walk.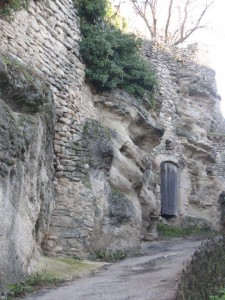 At the top of the hill there is a different view of the valley.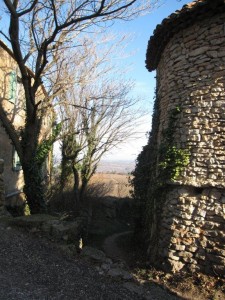 After buying the bread I headed back home, carrying the unwrapped baguette in my bare hand (of course!). There are four fountains on this walk, adding the calming sound of running water to the ambiance.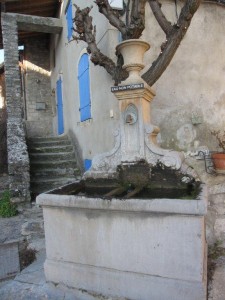 I took the second road on the way back. This is the main road through the village – the one I don't like to drive on because it is so narrow. But walking is quite lovely, especially in the middle of the day when there is little traffic. The only person I saw yesterday morning was this cyclist.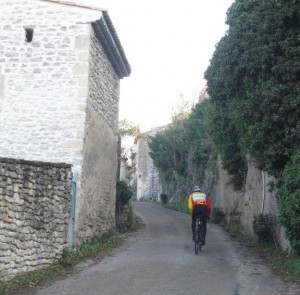 I got back to the house and the total trip has taken about half an hour. The end of this perfect morning was a piece of fresh baguette.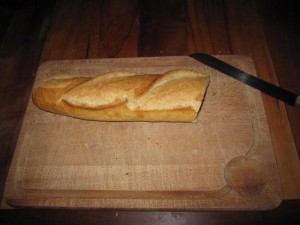 I hope I continue to see the incredible beauty that surrounds every aspect of our lives here.
January 20, 2011 2 Comments
The BIG tourist attraction for kids in our region of Provence is the Ferme Aux Crocodiles (Crocodile Farm). We were told about it before we came, picked up brochures and coupons from every tourist information we visited, and had other families tell us about it. It was very high on our list of things to do.
However, since all the brochures emphasized that it is always open  – even on Christmas Day and bank holidays – and it is mostly inside, we've been saving the crocodile farm for a rainy day.
Last week it was raining, so we decided to head out first thing Wednesday morning and spend the full day with the 350 crocodiles plus alligators and turtles and other beasties. We managed to leave the house at a reasonable time and about five "Are-we-there-yet?"s later we arrived to find this:
Stuff being closed has become a part of our life here in France, so we've learned to roll with it. We still hope to see the crocodile farm one day, but in the meantime we visited the perfume factory next door and watched a machine fill little Eiffel Tower shaped bottles with cheap perfume. We also took the opportunity to visit Pierrelatte for the first time, where we discovered this little gem of a sign: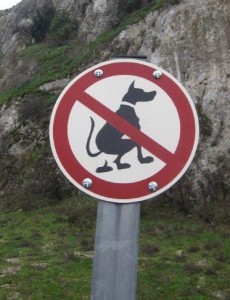 The evidence on the ground gives no indication that the dogs in Pierrelatte understand this sign.
January 18, 2011 1 Comment
This picture was taken in January in the Drome area of Provence.
The leaves of the oak trees turned brown several months ago, and many mistrals have blown since then. But the leaves are STILL ATTACHED!!
January 11, 2011 3 Comments
We're living in an area surrounded by villages that date back to antiquity or medieval times. We frequently experience interesting and fun traditions just by walking around.
Earlier in December, we visited Taulignan for its annual Christmas market.  Taulignan is a fortified medieval village that prides itself on beautiful walls with a dozen defensive towers, generally all intact and quite spectacular.
Many people take this event quite seriously, dressing up as knights, princesses, bards, medieval soldiers, priests, medieval farmers and so on.  Some folks even explore the market by riding a horse, just like the good'ol days.
[Editor's side note:  Watch where you walk!]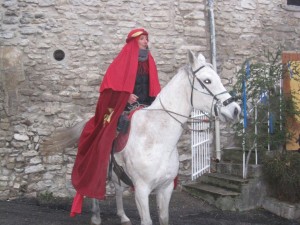 But the highlight of our visit was the show of people who dance with fire and then spit it from from their mouths.  It's really quite impressive.  To this day, I still wonder what they drink to make such a spectacular flame.  Perhaps this is a secret best unknown…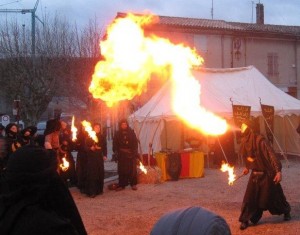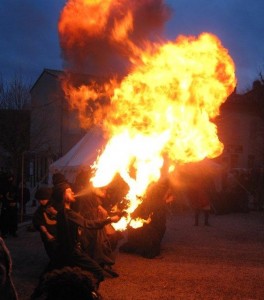 January 2, 2011 1 Comment
Last year we made a resolution – to live in Europe for a year. But this time we actually did it!
We  are very excited, happy, and proud that we finally took this trip we've been dreaming about for years. But it turns out there was a catch. The closest thing we'd ever done to something like this was taking a vacation. But a one-year trip isn't like a vacation. You can't pause your life for a full year like you can for a few weeks. Life goes on. It's easy to imagine that a mere change of location will make life better because you'll have more time – just like when you're on vacation.
We worked too hard in Silicon Valley – in France we'd take the time to sip wine and relax. We owned too much stuff which cluttered our lives – in France we'd take only our four allowed suitcases and live a simple existence. We didn't spend enough time with our kids – in France there is a four-day school week and lots of vacations so of course we'd have more family time. In California we put on weight no matter what changes we made to our diet – but the famous French Paradox would let us slim down while eating a high-fat diet. My dental hygienist sternly lectured me on gum health every time I saw her – in France I would floss my teeth EVERY day!!!
But we're not on vacation in France, we're living here. There is the usual stuff that happens anywhere but is more work because it's not familiar – feeding ourselves, doing homework, washing clothes, fixing broken windshields, and on and on. There is the sabbatical-specific stuff like figuring out our next appointment with immigration to keep our visas (370€ – each!) and learning French. And we want to travel and see this amazing place, which requires planning and time.
For us, there was no "geographic cure" that magically took our existing life and made it better just by changing our physical location. I'm still pretty much a control freak. JM still has back/muscle/etc issues. The kids still won't eat salad.
We're very, very glad we came. This has been an amazing experience and we look forward to the second half of the journey. But it's still real life and we're still us.
January 2, 2011 5 Comments
I find it à propos that the guy we buy our firewood from lives in the village of Salles-sous-Bois (Room Under Wood).
January 2, 2011 Comments Off on Apropos
The Drome area of Provence takes their nativity scenes very, very seriously. Every church has a beautiful and intricate creche. Our village has a contest among the children for the best creche.
Here is a small part of the creche in the tiny, but very old, church in our village: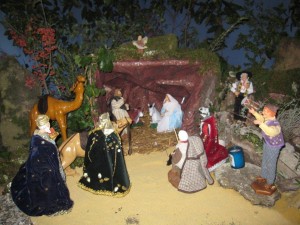 If you look closely at the picture, you'll realize that there is something missing – there is no baby Jesus! When I first saw the creche I thought it was incredibly sad that somebody would take advantage of  a church's open door to vandalize a nativity scene. But then I realized that he was missing from all of the creches. This is part of the tradition and baby Jesus will appear on Christmas Day.
The figures in these creches are quite spectacular. The attention to detail is stunning.
One of my favorite character groupings is this one with the lavender. Lavender??? Yes, the Provencal creches mix the traditional Mary, Joseph, shepherds, and wisemen and put them side-by-side with scenes from 1800s Provence. Typical figures include farmers, washer women, fishermen, millers, and hunters, and the scenes typically have a stream, a field of lavender, a windmill and much more.  The larger creches are animated with running water, horses that walk around, millers that carry flour back-and-forth and so on. At the creche in the "big" village near us, you can deposit 2 euros to start a complex animation that cycles from morning to sunset. Our girls love it.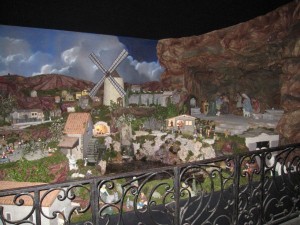 This mixing of the biblical nativity scene with 1800s Provence extends throughout the Christmas tradition here. We saw a Pastoral last weekend. It was fun to follow Mary on her donkey to the salle des fetes to see the performance (but had to be careful where we stepped!) The service started with with angels and shepherds singing some traditional carols, but then the miller, the hunter, and various other Provencal characters made an appearance as well, each bringing a gift for the little baby Jesus.
Our girls took a class here in our village to make their own creche. Of course this is our first year so we don't have the full set yet, but we have a good start on the basics:  Mary, Joseph, Baby Jesus, cow, donkey, potatoes, pumpkins, windmill, stream, and even a HUGE CARROT.
December 23, 2010 4 Comments
It's been COLD in France this past week prise viagra. For a few days it was o.k. to hunker down at home, but the kids were starting to drive me crazy.  JM was sick, so I just needed to disappear with the girls for an hour. We were introduced to the perfect place by a neighbour in our village: Esprit Gourmand, a tea shop in St. Paul Trois Chateaux.
(Side Comment:  There is not even one chateaux (castle) in St. Paul Trois Chateaux.)
A tea shop usually wouldn't strike me as a place for kids, but not all tea shops are run by the amazing Yves and Loupile.  There are a couple of things that make it great:
Kid Books: There is a whole shelf of kid books in the back room. L and Z are each allowed to go (one at a time) and get a book to bring to our table. Last time they grabbed a "Where's Waldo" style Smurf book. Working as a team, we got through the book in about an hour. The perfect break.
Big Dominoes: Guests are welcome to use the game of huge wooden dominoes – either to play a game, or to set them up and push them over.
The owners: I simply can't say enough about the wonderful people who own this place. Not only are they completely patient with my bad french and keep telling me I'm doing fine (which is really all it takes to win my heart in this country!), best of all they genuinely love kids. Every time we visit the tea shop they do something a little special – suggest a book, bring a cookie, gently tease the kids about their umbrellas, or give them one of the little sparkly things they used for Christmas decorations.
Esprit Gourmand also meets my absolutely #1 requirement for a trip alone with the kids in Provence – easy parking close by!
December 6, 2010 3 Comments