A Rather Perfect Winter Morning
Not every day is perfect in Provence, but yesterday morning came pretty close. The weather has been just lovely, and as I left the house the sun was shining, the sky was blue, and the smell was clean.
My first errand was to take the garbage out. There is a garbage and recycling station a couple of hundred meters down the road, a slight downhill walk with a lovely view.
Next stop – pick up the bread order at the village cafe. As I walked the valley stretched out on my left with a clear view of the neighbouring village.
Our village is quite lovely – a collection of rock houses built into a rocky face halfway up the hill. There are just two roads in the village, so today I took one to go to the cafe and one to come home.
The village has evolved over time, so none of the buildings are the same, and you can't tell from the outside how things are connected on the other side of the walls. It makes for some very dramatic roof lines and lovely little nooks between the houses.
I stopped to check out how the construction was going at the Mairie (town hall). They are building a new salle des fetes (community hall) at a site on the outskirts of the village, but for some reason tore down the old salle des fetes before even breaking ground on the new one. Ping pong classes have been canceled for the rest of the year since there is no longer any place to set up the ping pong table. L is deeply disappointed.
From the Mairie to the cafe is a short but steep uphill walk.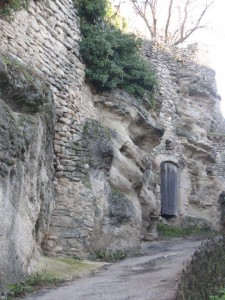 At the top of the hill there is a different view of the valley.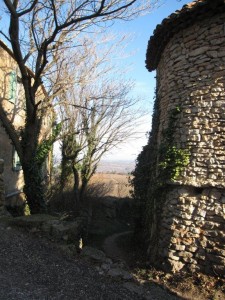 After buying the bread I headed back home, carrying the unwrapped baguette in my bare hand (of course!). There are four fountains on this walk, adding the calming sound of running water to the ambiance.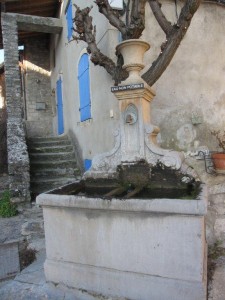 I took the second road on the way back. This is the main road through the village – the one I don't like to drive on because it is so narrow. But walking is quite lovely, especially in the middle of the day when there is little traffic. The only person I saw yesterday morning was this cyclist.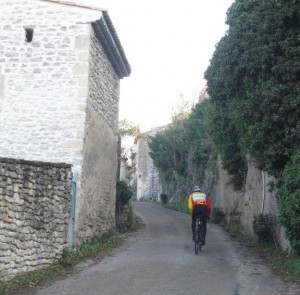 I got back to the house and the total trip has taken about half an hour. The end of this perfect morning was a piece of fresh baguette.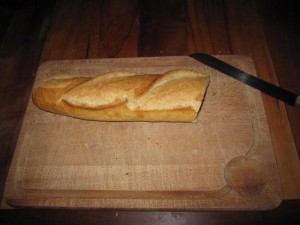 I hope I continue to see the incredible beauty that surrounds every aspect of our lives here.
2 Responses to "A Rather Perfect Winter Morning"