Category —
Food
I love, love, love, LOVE the cantine – the school cafeteria in France.
One of the things I was most excited about when we decided to come back was the break from making school lunches. For just a few euros a day, French children can eat sit down meals with 3 or 4 courses. Talking about the school lunch is a regular topic at dinner, and I'm jealous when I hear about the cordon bleu, interesting salads, and local cheeses. I am terribly proud whenever my daughters tell me about how much they love the spinach dish – even though I had nothing to do with making it.
Today the girls came home with news of the repas de Noel. A special Christmas meal was served at the cantine that included duck gizzard salad, grilled potatoes with Parisian mushrooms, roast turkey, and a special Christmas cake. The presentation of the food is an important part of the eating experience, and each child was greeted with a personal menu to introduce the meal:
The girls explained that the menus were hand made by "the strict cantine lady" who had also spent hours folding green napkins into a Christmas tree for each child.
Our landlords very kindly hosted an apero to introduce us to a few people in our new village. It was a bilingual gathering with a mix of French  and local British people. The topics at the English end of the table included local politics, schools, bureaucracy, healthcare, and kids.  The French end of the table had one main topic – FOOD.
In the South of France, food is a serious thing. Eating here is more than simply satiating hunger, it is an experience.
First, les legumes. The best place to buy vegetables is from a farm about half a mile away. There is no sign, just turn left at the first road past the greenhouse. When you get there, you'll see that the garage door is open and there are big boxes of fruits and vegetables. The price list is on the wall. The vegetable place is only open from 10-12 on Saturday morning, and it is a very social experience since the entire village descends on the farm.
JM chatted with the farmer, who explained that his vegetables are not bio (organic), because sometimes you need to deal with an infestation and the rules to be bio are very rigid. But his family eats these vegetables and so do his neighbours who see what he does every day. A lively discussion on the merits of horse manure vs. duck manure followed.
Next, the boucherie. Everyone agrees the local butcher is excellent, and we heartily agree. The French do not make any attempt to hide the fact that the meat you are eating comes from the animals you see as you drive around. Each cut of meat has a picture of the type of animal that it comes from in its pre-meat state.
We have not yet had a chance to visit the fromagerie with the best goat cheese. He is only open at 6 AM and 6 PM, the hours he milks the goats. Everyone agrees that the level of hygiene there is a little bit suspect, but the cheese is so good you can easily overlook that.
I could also tell you about the best bread, pastries, chocolate, olives, and more, but writing this has made me hungry…
Welcome to the Hôtel Doctrinaires, an old college founded by the Pères Doctrinaires of Avignon in 1635, now fully renovated and converted into a nice hotel in Beaucaire.  Surprisingly for a 17th century hotel, it was very comfortable, and our room was large with a jacuzzi bath.
Here are a couple of pictures to give you a sense of our stay…
It's interesting that this hotel was almost empty, despite its awesome charm and great comfort, whereas the much more expensive Best Western was fully booked.  Go figure…
Dinner was revealing, however, when I realized that L had now fully developed her palate for French gastronomical cuisine.  Indeed, when given the choice between the standard "kid fare" of steak haché and frites (hamburger patty with french fries), she instead opted for the adult salmon main course – along with a small provençal quiche, an awesome preparation of mixed vegetables and a little side salad.  And Z who was notorious for eating only plain pasta, rice and bananas before coming to France, had to "copy" her sister and ordered the same dish. They've fully embraced the local culture.  Now that's my girls !  🙂
After our truffle hunting adventure, we decided that we had to enjoy the fruits of our labor and so bought a (very small) truffle. The fact that we had no clue what to do with it didn't stop us.
Fortunately, the truffle farmer's wife had many suggestions and tips:
Truffles are about smell, and not so much taste.  So when preparing dishes, the objective is to get the dish to absorb their smell.
The smell disappears within about a week (or less), if stored in a fridge.  Use a sealed container.  (I actually forgot and the milk tasted like truffles the next day!)
Don't overcook truffles – you lose all the flavor!  Now I prefer not to cook them at all.
So what dishes are good with truffles? A famous Provençal dish is the truffled omelet. One way to prepare it is to put the mushroom with the eggs in a sealed container for a few days, so the eggs absorb the smell (eggs in the shell, or without – both approaches work!)
Other folks make mashed potatoes with truffles (I tried, but we didn't get much of a truffle taste, perhaps because we overcooked them).
But our favorite by a long shot, is truffled Brie cheese. It's easy to do, and very addictive because it's so good.  Here's how to prepare it:
Slice a wedge of Brie along its length (cross-section).

A sign of quality for black truffles is the number of nervures (white veins) the mushroom has.  The more the merrier (and tastier).
Shave thin slices of truffles on the inside of the brie.  The thinner the slices, the better.  The idea is to maximize the mushroom surface area exposure to the cheese so as to transfer the mushroom smell to the cheese.

Finally, wrap the cheese in a plastic wrap (saran wrap or equivalent) to seal it.  Store in the fridge for at least 24 hours – two to three days is even better.  This gives it time to impregnate the truffle smell properly.

Now you can proceed to a legendary dégustation with a glass of Côte du Rhône for proper pairing. Mmmm. C'est délicieux!
Thanks to well-connected friends, we were invited to a truffière (truffle farm) to enjoy the action of finding truffles. With truffle season at its peak (and the high-demand mushroom selling at markets for about 800€/kg!), this was an opportunity we couldn't pass up.
The first surprise was that it was indeed hunting, and not at all like when you pick mushrooms. Truffles grow underground on the roots of oak trees and they are found by smell. We went "hunting" with a specially trained truffle dog that was raised from birth to smell the truffles. Puppies from proven truffle dogs sell for 5,000€ each!
The next surprise was how easily the dog found the truffles. For us, the hunting part was keeping up with the dog, since he found truffles faster than they could be picked up, brushed off, sniffed, and admired. The dog would smell a truffle, dig until the truffle was uncovered enough for the handler to gently remove it, yap non-stop until he got his treat (usually a piece of sausage), and then run off for his next find.  The truffle farmer normally does this every other day during the season which lasts from November to March.
Of course, being in France, every hard afternoon's work must properly end with the very famous and much appreciated (and well-deserved?) apéritif. Our group gathered at the truffle farmer's house for a couple of bottles of wine and some truffle sniffing, while we judiciously selected the one(s) we wanted to buy. We choose a very, very small one. We paid well below market, but it was still très cher.
So why are truffles so expensive? It turns out that growing truffles is very much like gambling for the farmer. Some farms produce truffles on more than half of their trees while others don't produce anything at all.  The farm we went to had 180 trees but only a dozen produced the beloved mushroom, giving a yield of less than 10% (this is not unusual). All trees were planted with truffle spores at their roots, and the soil condition was supposedly perfect for production. The trees at this truffière were 15 years old, and some started producing truffles only last year. So a farmer wants to keep every tree, even the non producing ones, as they may suddenly produce in just one more year. It's the never-ending hope for the French version of  "black gold".
I was asked this question by a friend. The answer is yes, although it's complicated to say exactly how. But here's a really simple example.
This is a picture of a lunch I was served during our trip to Venice. One year ago I would have thought of this as: "My lunch is looking at me – yuck!"
Now I think of it as:  "Absolutely perfectly prepared fish.  Delicious."
Lunch in Venice – Delicious!
I went to pick up the bread order at the cafe. They had changed some things this week and didn't know the new price of the "marquise"-style baguette. They told me to just take the bread.  I could come back the next day to pay for it.
JM went back the next day and mentioned that we still needed to pay for that bread. This time the proprietor was there but didn't know about the previous day's lack of payment.  Pas problem.  He just asked how many loaves, and made up a price. Transaction settled.
I absolutely LOVE this part of village life!
It's been COLD in France this past week prise viagra. For a few days it was o.k. to hunker down at home, but the kids were starting to drive me crazy.  JM was sick, so I just needed to disappear with the girls for an hour. We were introduced to the perfect place by a neighbour in our village: Esprit Gourmand, a tea shop in St. Paul Trois Chateaux.
(Side Comment:  There is not even one chateaux (castle) in St. Paul Trois Chateaux.)
A tea shop usually wouldn't strike me as a place for kids, but not all tea shops are run by the amazing Yves and Loupile.  There are a couple of things that make it great:
Kid Books: There is a whole shelf of kid books in the back room. L and Z are each allowed to go (one at a time) and get a book to bring to our table. Last time they grabbed a "Where's Waldo" style Smurf book. Working as a team, we got through the book in about an hour. The perfect break.
Big Dominoes: Guests are welcome to use the game of huge wooden dominoes – either to play a game, or to set them up and push them over.
The owners: I simply can't say enough about the wonderful people who own this place. Not only are they completely patient with my bad french and keep telling me I'm doing fine (which is really all it takes to win my heart in this country!), best of all they genuinely love kids. Every time we visit the tea shop they do something a little special – suggest a book, bring a cookie, gently tease the kids about their umbrellas, or give them one of the little sparkly things they used for Christmas decorations.
Esprit Gourmand also meets my absolutely #1 requirement for a trip alone with the kids in Provence – easy parking close by!
I call it "the village cafe", but it's actually a multi-commerce (general store). You can buy bread, stamps, and laundry detergent, refill your cell phone, and have a coffee or aperitif.  It's also a full-service restaurant.  But this is not the "video rental and fresh bait" kind of general store you find in small towns in North America, this restaurant has a real chef and food that is absolutely exquisite.
One of my favorite things about France is that our cafe does plat à emporter (take out) including a really lovely chilled foie gras. You read that right, TAKE OUT FOIE GRAS. Seriously!!!  How awesome is that? Today JM and I had lunch there  and my canard (duck) was superb with a really incredible morel mushroom sauce. Last Friday the pork with chestnut sauce was absolute poetry.
But aside from the amazing food, the cafe is also a great place to experience the village:
Today there was a notice in the window announcing the birth of a new baby complete with picture and a general invitation to the baby shower – which would be held at the cafe, of course.
While were were eating, a local farmer showed up at the restaurant carrying a HUGE butternut squash under his arm, vanished into the kitchen, and came out with an enormous pail of food garbage.
Monsieur le Cowboy, a local character, came in for a drink and stopped by our table to flirt a bit, taking my hand and putting it to his lips, but then kissing his own hand instead at the last minute.
As we were leaving, the chef came out so of course JM chatted him up. He gave us a taste of his salt-cured duck, which sounded kind of scary to this simple prairie girl, but was excellent.
A totally charming lunch in our wonderful Provencal village cafe.
France is usually not known for entrepreneurship.  The 35 hour work week and hopes for a safe government job are the more typical stereotypes.  Coming from entrepreneurial Silicon Valley, the last thing I expected to meet in the Provençal countryside are fellow entrepreneurs.  Of course I should have known better.
There is a recession in France, just like everywhere else.  New grads coming out of school can't find jobs, just like everywhere else.  So they're making opportunities for themselves.
You may recall Diane's earlier post regarding Ivan Des Pizzas, the owner, operator and chef of the local pizza truck. Ivan has all the traits of a true entrepreneur, truly dedicated to his business.  His pizza truck visits a different village seven days a week, showing up at around 4:30pm until business stops at around 10pm or so. Judging by how busy he is, his business is thriving.
I bought two pizzas from Ivan the other day and asked him when he planned to expand his great operation to America.  His reply:  "I would love to, but it's a long drive for my truck."
Introducing Vegetable Luc
School is off in France on Wednesdays.  We like to use those days to take the girls and check out the area.  We visited a nearby fortified medieval town, built in the 11th century.  We saw many cool things, including an old church that had entombed some prominent nobles who passed away in 1650.  But to the girls, the highlight was meeting Luc at the "lavoir du village" – the town's main fountain where in times past, people came to wash their clothes. Luc was there, with a large bag of tasty yellow beans that he had just picked.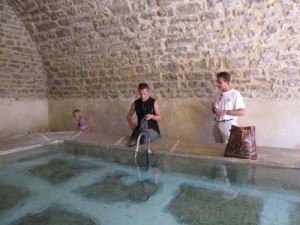 We started chatting, and of course, recognizing my French Canadian accent, he told me how he wanted to visit Montreal one of these days.  But soon, his entrepreneurial instincts kicked in, and he offered to sell me a kilo of his yellow beans. Once I showed interest, he then mentioned his super sweet and tasty pastèques (watermelons).  The girls picked up on that, so for a few Euros, we got a kilo of beans and half a watermelon.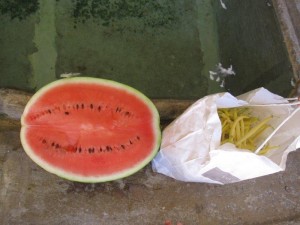 But Luc's entrepreneurial instinct didn't stop there.  He gave me his cell phone number, just in case we'd want freshly delivered vegetables every week – he's only a phone call away.