Category —
Planning
Packing for a year away is a tricky thing. We rented a vacation home with towels, kitchen stuff and so on, so we just need personal stuff.  Our goal was to travel with one 50-pound bag plus one carry on each – the airline allowance for an international flight. We would have to prioritize.
First we packed the stuff that can't be easily purchased – medicines, contact lenses, laptops, work stuff, and English workbooks for the girls. Next ,the clothes. We need enough for day-to-day, school, sports, special occasions, and possibly the odd work trip. We need all these types of clothes for all four seasons, plus have to consider that the girls will grow. Rounding out the list of necessities we find toiletries for travel since we are on the road for close to a month before we got to our "permanent" place.
The "needs" took most of our 200 pound allowance of checked luggage, and we hadn't even considered the "wants" yet. The girls were allowed to fill their carry-on backpacks with anything they wanted. Luckily what they wanted most was light and squishy stuffed animals, so we took the opportunity to shift those to the checked luggage and put heavy stuff in their carry-ons for another few pounds of "free" weight.
JM and I both wanted some guilty-pleasure things. He wants to ski in Europe, so we added coats, ski pants, and toques. I've been saving up a few seasons of TV shows I like on DVD. In the end we decided to add a fifth bag to save our marriage from cut throat negotiations on whether his "Strength Band Training" book or my tabbed file folders (the ones in France don't have tabs) was the more frivolous.
Final tally: five 50 pound bags plus 4 carry ons. About 300 pounds.
The remaining challenge – how to get all this luggage on and off the train. Fortunately we didn't have any connections, the girls were helpful, and there were escalators in all but one place.
We are now in the Languedoc with all 300 pounds. But every time we shop we remember that everything needs to weigh about the same when we leave next July.
September 4, 2013 Comments Off on One Year, 300 Pounds
In 2010, when we thought about living in France for a year, we had tons of questions:
Could we get a visa?
How would we find a place to live?
Would my book club survive without me?
What would happen to our business?
What would we do about healthcare? School? Banking? Cars?
Would we make friends?
What would we do with our house and stuff in California?
Would we enjoy the experience – especially the one of us that didn't speak French?
Would the kids' English suffer?
Should we ship stuff or just take plane luggage?
?????????????
But here's the thing:  Once you do it once, you know that it can be done. So this time, we had only one question:
WHY NOT?
We couldn't come up with a reason, so we're doing it again. Another year in the south of France, this time a farmhouse in the Languedoc. JM will have plenty of castles to explore, including the fantastically amazing Carcassonne.

We'll arrive early in September. Come visit!
July 9, 2013 3 Comments
Last year we made a resolution – to live in Europe for a year. But this time we actually did it!
We  are very excited, happy, and proud that we finally took this trip we've been dreaming about for years. But it turns out there was a catch. The closest thing we'd ever done to something like this was taking a vacation. But a one-year trip isn't like a vacation. You can't pause your life for a full year like you can for a few weeks. Life goes on. It's easy to imagine that a mere change of location will make life better because you'll have more time – just like when you're on vacation.
We worked too hard in Silicon Valley – in France we'd take the time to sip wine and relax. We owned too much stuff which cluttered our lives – in France we'd take only our four allowed suitcases and live a simple existence. We didn't spend enough time with our kids – in France there is a four-day school week and lots of vacations so of course we'd have more family time. In California we put on weight no matter what changes we made to our diet – but the famous French Paradox would let us slim down while eating a high-fat diet. My dental hygienist sternly lectured me on gum health every time I saw her – in France I would floss my teeth EVERY day!!!
But we're not on vacation in France, we're living here. There is the usual stuff that happens anywhere but is more work because it's not familiar – feeding ourselves, doing homework, washing clothes, fixing broken windshields, and on and on. There is the sabbatical-specific stuff like figuring out our next appointment with immigration to keep our visas (370€ – each!) and learning French. And we want to travel and see this amazing place, which requires planning and time.
For us, there was no "geographic cure" that magically took our existing life and made it better just by changing our physical location. I'm still pretty much a control freak. JM still has back/muscle/etc issues. The kids still won't eat salad.
We're very, very glad we came. This has been an amazing experience and we look forward to the second half of the journey. But it's still real life and we're still us.
January 2, 2011 5 Comments
I call it "the village cafe", but it's actually a multi-commerce (general store). You can buy bread, stamps, and laundry detergent, refill your cell phone, and have a coffee or aperitif.  It's also a full-service restaurant.  But this is not the "video rental and fresh bait" kind of general store you find in small towns in North America, this restaurant has a real chef and food that is absolutely exquisite.
One of my favorite things about France is that our cafe does plat à emporter (take out) including a really lovely chilled foie gras. You read that right, TAKE OUT FOIE GRAS. Seriously!!!  How awesome is that? Today JM and I had lunch there  and my canard (duck) was superb with a really incredible morel mushroom sauce. Last Friday the pork with chestnut sauce was absolute poetry.
But aside from the amazing food, the cafe is also a great place to experience the village:
Today there was a notice in the window announcing the birth of a new baby complete with picture and a general invitation to the baby shower – which would be held at the cafe, of course.
While were were eating, a local farmer showed up at the restaurant carrying a HUGE butternut squash under his arm, vanished into the kitchen, and came out with an enormous pail of food garbage.
Monsieur le Cowboy, a local character, came in for a drink and stopped by our table to flirt a bit, taking my hand and putting it to his lips, but then kissing his own hand instead at the last minute.
As we were leaving, the chef came out so of course JM chatted him up. He gave us a taste of his salt-cured duck, which sounded kind of scary to this simple prairie girl, but was excellent.
A totally charming lunch in our wonderful Provencal village cafe.
November 9, 2010 6 Comments
JM and I have been dreaming of taking a year off and traveling for as long as we've been together.
Before we met, I had never been outside of Canada except to drive through the US on the way to other parts of Canada. But JM had  backpacked through South East Asia for a couple of months as an undergrad, where he met a very cool couple from Guelph. They had quit their jobs and were backpacking around the world which made quite on impression on JM when he met them in Bangkok. We decided we were going to do that too – in 2 or 3 years, because we were both working on graduate degrees part-time and working full-time and it wasn't the right time to go.
A few years later we moved to Silicon Valley. (We're still there, 14 years into our "2-year stay".) We decided to see America while we were here and did a bunch of back-country hiking trips in various National Parks. Every time the backpacks came out we'd talk about our plans to travel around the world. We still planned to do it – in 2 or 3 years, because it was the dotcom bubble and both of our careers were on fire and it wasn't the right time to go.
We got married and bought a house. We did our first big international trip together as a couple – the Galapagos, which was AMAZING. It was three weeks of the most incredible scenery and animals and fascinating people and it got us excited again about the idea of taking a year off and traveling.  We were still definitely going to do it – in 2 or 3 years, because the dotcom bubble had burst and there were layoffs everywhere and it just wasn't the right time to go.
Then we had our two beautiful but very high-maintenance babies, and it was ABSOLUTELY NOT the right time to go.
Now it's 2010.  The kids are five and six and do best with structure in their day. JM has an early-stage start-up that needs constant care and feeding.  The business I've spent the last five years growing has gained a lot of momentum and being gone for a year will definitely disrupt that. Our parents are starting to have health issues – and so are we.  The economy generally sucks. And the sprinklers seem to break every week. So now is not the right time to go either.
But this time we're going anyway.
Two more days…
August 27, 2010 6 Comments
It is five days to departure and we have spreadsheets, piles and little notes everywhere. I'm getting a little stressed about all the last minute stuff, but making lists always makes me feel as if I have my act together. Let's see if this one helps.
Done:
Place to live in France – This was probably the biggest thing, and the visa and school depended on it.
House-sitter in California – We were originally planning to rent the house, but it was an enormous pain. The time frame for a rental made it really hard to find somebody. We did look at sabbaticalhomes.com, but that was all listing for grad students who wanted to be house sitters not actual families on sabbatical. Plus as the time got closer and we got busier the thought of packing everything up, finding and paying for storage, and changing our address for the year just got to be overwhelming.  All those house sitter ads got us thinking, and we found a wonderful gal who is a great friend of the family to stay in the house.  She'll pay us some which will offset our expenses a bit, and she'll keep an eye out on the mail to catch any bills that I didn't remember to move online.
School in France – This one was easy.  When we get there we'll need to visit the town hall.  We need to bring birth certificates, immunization records and – this one made me laugh – our marriage certificate!
New laptops – Both JM and I have had Vista disasters for the past two years that are slow and getting flaky.  Don't want to deal with a system meltdown on the road, so we upgraded before leaving.  Loving the new laptop, except that the "a" key squeaks.
Order contacts – I almost missed this one.  You need to have visited an optometrist within the past year to order new contacts, and I haven't seen one since early 2009.  Begging helped.
Checkups for everybody – Immunization updates for the kids.  General health stuff for grownups. The doctor gave us fluoride pills for the girls while we're gone.  Not something I would have thought about.
Travel health insurance – After the nightmare that is buying private health insurance in the US, this was absolutely delightful thanks to the fabulous Becky from Seven Corners.
Visas – That was a big one.
Flights – This was a challenge.
Buy converters/adapters – How did we end up with so much electrical crap?  It used to be just us, but now the girls have their stuff too.  But here's an important tip – adapters are NOT converters and just because a plug is big doesn't mean it has an adapter built in. (As I discovered one time in Amsterdam after plugging in a router  and causing a 2-hour blackout in the entire wing of the hotel.)  Our laptops have adapters, but turns out the DVD player doesn't.  JM's electrical engineering degree coming in quite handy for deciphering plugs.
Start blogging and tweeting – And very importantly get my Mom and Dad subscribed. (Hi Mom and Dad!)
To do this Week:
Prep house for sitter
Scan all documents – passport, birth certificate, marriage certificate, health insurance, etc….
Car storage/relocation
Pack
Finish setting up online bill pay
Book hotel and car in Lyon for arrival
Re-pack
Cancel stuff we don't need while we're gone
Buy a few winter clothes for L.
Extend cell-phone coverage plan to include Europe
Fight with JM about amount of stuff we're packing, then repack again
Refinance the mortgage – I know it's CRAZY, but the rates just got WAY better.  The worst part is  scanning the  tax returns.  UGH.
To Do in France:
Of course, we're procrastinating on everything we can.  After all, in France we'll be "on vacation" with lots of time for this admin stuff, right?  But we need to remember:
Figure out car – buy, long term rental, other
Bank account
School supplies
Everything else we forgot about

August 23, 2010 4 Comments
Traveling to Europe with a family of 4 is not cheap under any circumstances, but the last week of August is particularly "tres cher". And when you're trying to do something as unusual as not coming back within a couple of weeks, it apparently gets even more complicated.
Denise saved us again with a link to a great source for one-way flights that actually cost half the price of a round-trip ticket – instead of twice the price like you are charged when you call the airline directly. You need to fax over an authorization to buy a one-way ticket (odd?) but for the price I'll happily dust off the old fax machine and dig out a pen.
July 20, 2010 Comments Off on Booking Flights for Sabbaticals
It was a very strange experience to sign my name to a contract written in a language I don't understand. Of course, the fluent husband is quite helpful.
Here's the interesting part:  Even though the contract was in French, I felt like it was actually easier to understand than any other contract I've signed. There wasn't any "fine print".  It was a four-page document in a reasonable sized font with lots of white space. I felt much more confident in signing my name to that in French then any of the English contracts I've signed:  especially credit card applications, mortgage papers, and (worst of all) anything related to health care.
So another big thing down – we have our house all lined up.  We can arrive anytime after August 26th.  It is in the Drome area of Provence, a region known for medieval castles.  JM is excited about the history, and I'm thrilled that we are walking distance from croissants and have reliable internet access.
June 21, 2010 1 Comment
So the "where" came down to this choice:
2-bedroom apartment in Biot right outside the medieval village
House in a small village in the Drome Provencale area
We were torn.  After our trip to Nice, the idea of living in a medieval village seemed so romantic and extremely different than our lives. Plus we had it in our head that we wanted to be close to Nice as a very easy place to travel from. Drome seemed a bit like the middle of nowhere when we first looked at the map.
On the flip side, I'm pretty much at the "two adults/two toilets" stage in my life, medieval villages are not known for their reliable internet access, and there seemed to be absolutely NO place for little children to play.  There were no parks, and the few squares seemed to all have signs saying you couldn't play ball.
JM was originally very negative about the house in the small village – and I will say that my biggest concern was that he would be bored. For me every step outside the house will be an adventure in communication, but I couldn't quite picture his life there.
Here is the picture that changed his mind: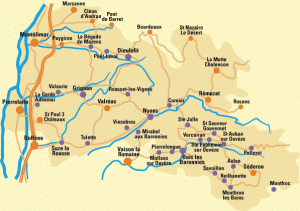 Every purple dot is a medieval town and he plans to visit them all.
Decision made.  We are headed to Drome Provencal.
June 19, 2010 1 Comment
JM and I spent last week in the south of France scoping for places to live.  Grandmaman and Grandpapa came down from Canada to stay with the kids while we were gone.
Love it here!! The people were lovely, the area was absolutely beautiful. We scoped out a ton of small towns outside of Nice:  Vence, Grasse, Valbonne, Draguignan, Callas, Le Muy, Brignoles, Biot, Sait-Paul, Saint-Jeannet, Gattieres plus a bunch more.
Our short list is Biot and Vence.  We love the idea of life in a walled medieval village. Walk the girls to school in the morning, go pick up a paper and a coffee, read and watch the people – all surrounded by buildings that are hundreds of years old.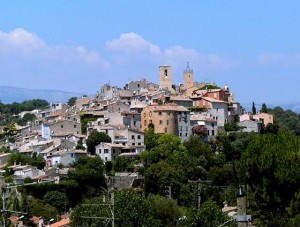 The next step is to look for a place to live, but the trip was really valuable.  We learned a few important lessons:
Buy car rental insurance: The roads are narrow and rocky.  Every car we saw had a major scratch or dent – including ours by the end of the trip.  🙁
Kindle whispernet works in France: Whew!  Huge relief. I was worried about my source of books while we were gone.
Start French conversations with "J'ai une question": It's a phrase that is easy to pronounce for an English-speaker, and it sets the stage that the forthcoming conversation will require effort.  People would be more likely to focus and make an effort, then speak more slowly when they reply.
Distances are short: Looking at the map we'd ruled out places like Grasse as being too far away, but everything is pretty close together.
The Nice airport cafeteria is excellent: We had some amazing meals there – very helpful staff also.
JM has a strong French-Canadian accent: Everyone we met commented on it within 3 or 4 sentences.
May 17, 2010 3 Comments