Making the Final "Where" Decision
So the "where" came down to this choice:
2-bedroom apartment in Biot right outside the medieval village
House in a small village in the Drome Provencale area
We were torn.  After our trip to Nice, the idea of living in a medieval village seemed so romantic and extremely different than our lives. Plus we had it in our head that we wanted to be close to Nice as a very easy place to travel from. Drome seemed a bit like the middle of nowhere when we first looked at the map.
On the flip side, I'm pretty much at the "two adults/two toilets" stage in my life, medieval villages are not known for their reliable internet access, and there seemed to be absolutely NO place for little children to play.  There were no parks, and the few squares seemed to all have signs saying you couldn't play ball.
JM was originally very negative about the house in the small village – and I will say that my biggest concern was that he would be bored. For me every step outside the house will be an adventure in communication, but I couldn't quite picture his life there.
Here is the picture that changed his mind: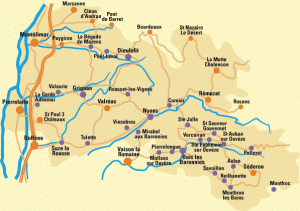 Every purple dot is a medieval town and he plans to visit them all.
Decision made.  We are headed to Drome Provencal.
One Response to "Making the Final "Where" Decision"