Things that Make Me Smile
1) Bread delivery – The local bakery has a truck that delivers bread right to your house. Our neighbours have a special tube for the bread attached to the mailbox, but at another house we see the bread tucked into the windowsill. Unwrapped of course!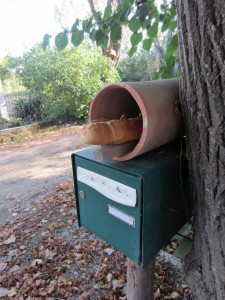 2) Bad Translations – These always make me feel better about my own language skills. This one, from a local pay-toilet station, got it very badly wrong three times in a row!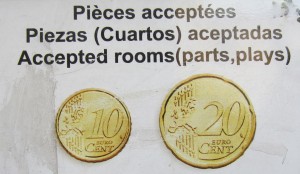 3) Unexpected Souvenir –  It's not uncommon to pay to use a public toilet in Europe. However, I was surprised when the lady at the restroom in the Louvre gave us this fridge magnet along with access to the facilities – truly a toilet to remember.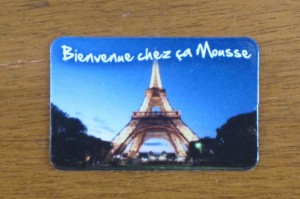 4) "The Capital of Fat" – This is the welcome sign from one of our local villages. Literally "Welcome to Belpech.  Regional Capital of Fat". They are referring, of course, to the foie gras and other fatty meats from the geese and ducks that are grown locally, but it still makes me laugh.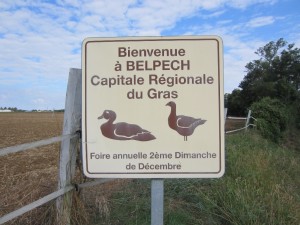 5) The Coffee Bike – We saw a couple of these in Toulouse last weekend. It is a pedal bike, with a place in the back for a coffee machine, and a little trailer to keep the milk and sugar. I want one!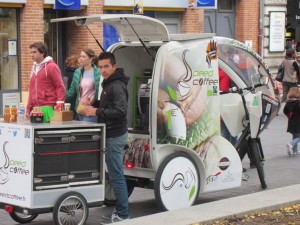 6) Unexpected Tunes – It does seem that wherever we travel we hear the music we listened to in the 80s. But I wasn't prepared for the bell tower in the ancient center of Bruges to be playing Stairway to Heaven!
2 Responses to "Things that Make Me Smile"