Confusing?
This sign tells you that the maximum driving speed is no longer 70 km/h. That speed zone is over.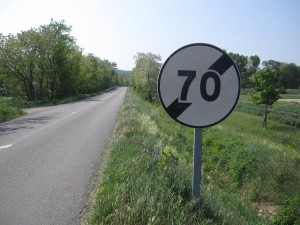 Maybe it's just me, but I would find it more helpful if the sign mentioned what the new speed is.
UPDATE:  So apparently it is just me. All the other people who live in France (and apparently in many other countries) find it completely normal that you just KNOW what the speed limit is for that kind of road. Any sign that is posted is indicating an exception. This sign is merely saying "the exception is over, go back to your normal speed". Maybe if we stay here longer I'll be able to look at a road and instinctively know if it's a 90 or a 50. Until then, I stick by my original premise that if you're putting up a sign anyway, you might as well put one up that is informative for everybody, not just those who are in-the- know.
6 Responses to "Confusing?"