To my kids' school friends, I am the Maman Anglais who speaks a very strange and limited version of French.
Starting in Grade 1, French children study English in school, and some of them like to practice with me. It's usually a pretty basic conversation, but I know how encouraging it is to have a native speaker understand you when you try to speak their language – and how very discouraging it is when they just don't.
I make an effort to be supportive of any child who wants to take their English words for a spin, so when a boy came up to me the other day at a village party and started off with our usual English exchange, I gave him my full attention.
Boy:  "Allo"
Me:   "Hello.  How are you?"
Boy:  "Good."
Me:   "I am good too."
Boy:  "Cheat."
Me:   (Very confused because usually they say bye and leave at this point. I don't understand but don't want to discourage him.) "Pardon."
Boy:  "Cheat.  ummm…  Sheet."
Me:   (Still not getting it but wanting to encourage him.)  "Yes. You have a sheet?"
He left before I figured out that he was trying to shock me with his new English swear word. That boy definitely needs to work on his accent to be bilingually obnoxious.
February 22, 2014 1 Comment
I love, love, love, LOVE the cantine – the school cafeteria in France.
One of the things I was most excited about when we decided to come back was the break from making school lunches. For just a few euros a day, French children can eat sit down meals with 3 or 4 courses. Talking about the school lunch is a regular topic at dinner, and I'm jealous when I hear about the cordon bleu, interesting salads, and local cheeses. I am terribly proud whenever my daughters tell me about how much they love the spinach dish – even though I had nothing to do with making it.
Today the girls came home with news of the repas de Noel. A special Christmas meal was served at the cantine that included duck gizzard salad, grilled potatoes with Parisian mushrooms, roast turkey, and a special Christmas cake. The presentation of the food is an important part of the eating experience, and each child was greeted with a personal menu to introduce the meal:
The girls explained that the menus were hand made by "the strict cantine lady" who had also spent hours folding green napkins into a Christmas tree for each child.
December 20, 2013 1 Comment
One of the things I enjoy about living in another country is meeting other newcomers. They are usually very interesting and open to new friendships. Fellow expats always have at least one thing to talk about: things that are different about your adopted country.
Over dinner last weekend with a group of Canadian, British, and Belgium expats, we of course talked about how France is different. Some things you learn to expect – like seeing baguettes peeking out from any possible place to put one and having a choice of over 50 types of ham. But even though all of us have spent over a year living in France, new things keep popping up. Here's a few:
Things in France that still surprise us
The local banks may refuse to accept cash deposits in the afternoon, or maybe in the morning, depending on when they've decided to be open for "non-appointment" interactions.
The French government pays for a mother's tummy tuck after the birth of her third child (you do have to have at least 3 babies to qualify).
Even after a year, none of us are totally confident that we'll know how to use the restroom in a new place, although we've all gotten very good at figuring it out.
The French love to create and share animated PowerPoint slide shows.
When you go to a restaurant there is often no bread plate. Bread is put directly on the tablecloth even at very fancy places.
99% of the t-shirts with writing are in English.
There are bare boobs depicted everywhere. I don't mean just the "real" art. We've seen naked female torsos as part of the decoration on merry-go-rounds, the "apple boat" at the apple festival, a statue of the famous mathematician Fermat (Fermat was clothed, but the young lady sitting at his feet was not), and on the label of a cheese we bought recently to name just a few.
November 21, 2013 1 Comment
It was a lovely afternoon so I took a break and walked up the hill to our tiny village.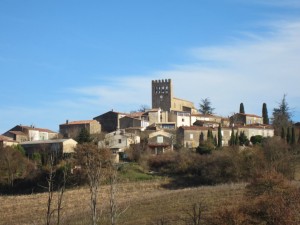 I love this walk – gorgeous rolling hills in every direction, the field of sunflowers about to be harvested, the pony that runs over looking for treats, and the cemetery that seems to be almost the same size as the village.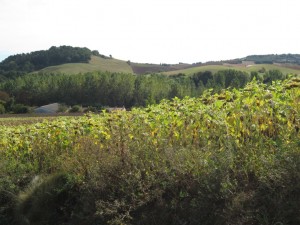 (The cemetery has the best cell phone reception in the entire village.)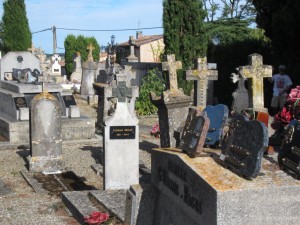 I also love the village itself.  No two houses look anything the same, the church has the style of the region that looks a bit like a fortress, and there are small pockets of loveliness everywhere.
As I got into the village proper on this walk, I passed a stranger coming out of his house. As village etiquette requires, I nodded and said "Bonjour."
The immediate reply, in British-accented English. "Well hello. I take it you are Canadian."
?!?!?!?!?
Was it the way I was dressed? Was my smile a little too enthusiastic? Could he be a linguistic savant who could hear an English Canadian accent in a single French word?
Of course it's none of these. We live in a small village and word has got around.
November 6, 2013 2 Comments
It is the October school break and we are taking advantage of two weeks off to head east to visit the Basque region of France and Spain. As we drive through the French Pyrenees, we spot signs for the "Route de Fromage". This cheese loving family had no choice but to check it out.
There are over 80 producers on the Cheese Road, and the nearest fromagerie is only a mile away. When we get there the entrance is blocked, but we keep driving and soon see a sign for the next stop. We turn onto a narrow road that twists and turns. We have no idea what we'll do if we meet a vehicle coming the other way, but we seem to be the only ones driving so we continue up the hill until we encounter two cows crossing the road! Fortunately they are scared by us, so I didn't even have time to get my camera before they moved into the ditch.
We continue up the hill and see several buildings so we think we might have arrived. But as we pull around the hairpin turn we encounter the next road hazard – this time two huge free-roaming pigs. No cheese here, so we continue.
We get past the pigs and keep winding uphill. But this time we run into a real traffic jam – sheep are all over the road. and there is simply no way to get around them. It takes a while, but eventually a teenage girl shows up and chases them down the road. We follow at sheep speed for about 10 minutes until the road forks. The sheep go left and we are very happy to see the fromage sign pointing right.
It is worth it. The cheese is exceptionally good. And we learn an interesting sheep fact: the shepherds are moving the sheep up the mountains today. Fall is the season that sheep breed and these kind of sheep prefer high altitudes for their amorous activities.
October 26, 2013 5 Comments
1) Bread delivery – The local bakery has a truck that delivers bread right to your house. Our neighbours have a special tube for the bread attached to the mailbox, but at another house we see the bread tucked into the windowsill. Unwrapped of course!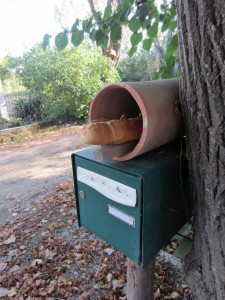 2) Bad Translations – These always make me feel better about my own language skills. This one, from a local pay-toilet station, got it very badly wrong three times in a row!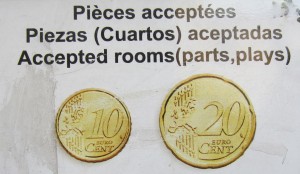 3) Unexpected Souvenir –  It's not uncommon to pay to use a public toilet in Europe. However, I was surprised when the lady at the restroom in the Louvre gave us this fridge magnet along with access to the facilities – truly a toilet to remember.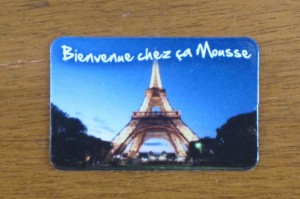 4) "The Capital of Fat" – This is the welcome sign from one of our local villages. Literally "Welcome to Belpech.  Regional Capital of Fat". They are referring, of course, to the foie gras and other fatty meats from the geese and ducks that are grown locally, but it still makes me laugh.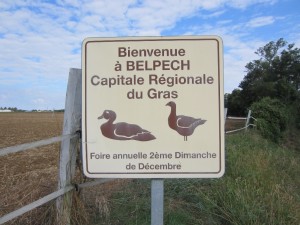 5) The Coffee Bike – We saw a couple of these in Toulouse last weekend. It is a pedal bike, with a place in the back for a coffee machine, and a little trailer to keep the milk and sugar. I want one!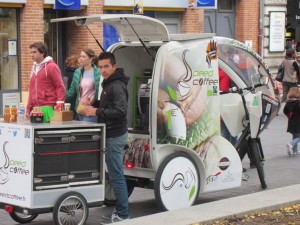 6) Unexpected Tunes – It does seem that wherever we travel we hear the music we listened to in the 80s. But I wasn't prepared for the bell tower in the ancient center of Bruges to be playing Stairway to Heaven!
October 14, 2013 2 Comments
Requests for parent volunteers are not common in French schools. We are enjoying the break from school commitments, but it does mean we don't know much about what is going on at school. So when Z came home with a note asking for parents to chaperone her weekly swim class, JM signed up.
It turned out to be a pretty big commitment. First was a required class where the parents were taught how to be good teaching assistants in the pool, then to the swimming pool for the  practical skills test.
After some difficulty finding the pool, JM changed into his bathing suit and headed out to take his test. There was no "please shower before entering the pool" sign, since everyone is automatically doused when they walked through the door from the change room to the pool. As JM was recovering from his surprise shower, the lifeguard hurried up to him in a state of clear agitation. For this one time only they would overlook it, but JM was not allowed to wear THAT in the pool.
"THAT" was a typical pair of navy swim trunks – typical in North America that is. This big suit was simply not allowed in the pool in France. Men here are required to wear speedo-style swim wear.
Off to buy some more "appropriate" swimwear so JM can chaperone the young children's swim class.
September 29, 2013 Comments Off on Culture Shock: Swimming Pool
Our landlords very kindly hosted an apero to introduce us to a few people in our new village. It was a bilingual gathering with a mix of French  and local British people. The topics at the English end of the table included local politics, schools, bureaucracy, healthcare, and kids.  The French end of the table had one main topic – FOOD.
In the South of France, food is a serious thing. Eating here is more than simply satiating hunger, it is an experience.
First, les legumes. The best place to buy vegetables is from a farm about half a mile away. There is no sign, just turn left at the first road past the greenhouse. When you get there, you'll see that the garage door is open and there are big boxes of fruits and vegetables. The price list is on the wall. The vegetable place is only open from 10-12 on Saturday morning, and it is a very social experience since the entire village descends on the farm.
JM chatted with the farmer, who explained that his vegetables are not bio (organic), because sometimes you need to deal with an infestation and the rules to be bio are very rigid. But his family eats these vegetables and so do his neighbours who see what he does every day. A lively discussion on the merits of horse manure vs. duck manure followed.
Next, the boucherie. Everyone agrees the local butcher is excellent, and we heartily agree. The French do not make any attempt to hide the fact that the meat you are eating comes from the animals you see as you drive around. Each cut of meat has a picture of the type of animal that it comes from in its pre-meat state.
We have not yet had a chance to visit the fromagerie with the best goat cheese. He is only open at 6 AM and 6 PM, the hours he milks the goats. Everyone agrees that the level of hygiene there is a little bit suspect, but the cheese is so good you can easily overlook that.
I could also tell you about the best bread, pastries, chocolate, olives, and more, but writing this has made me hungry…
September 18, 2013 1 Comment
Packing for a year away is a tricky thing. We rented a vacation home with towels, kitchen stuff and so on, so we just need personal stuff.  Our goal was to travel with one 50-pound bag plus one carry on each – the airline allowance for an international flight. We would have to prioritize.
First we packed the stuff that can't be easily purchased – medicines, contact lenses, laptops, work stuff, and English workbooks for the girls. Next ,the clothes. We need enough for day-to-day, school, sports, special occasions, and possibly the odd work trip. We need all these types of clothes for all four seasons, plus have to consider that the girls will grow. Rounding out the list of necessities we find toiletries for travel since we are on the road for close to a month before we got to our "permanent" place.
The "needs" took most of our 200 pound allowance of checked luggage, and we hadn't even considered the "wants" yet. The girls were allowed to fill their carry-on backpacks with anything they wanted. Luckily what they wanted most was light and squishy stuffed animals, so we took the opportunity to shift those to the checked luggage and put heavy stuff in their carry-ons for another few pounds of "free" weight.
JM and I both wanted some guilty-pleasure things. He wants to ski in Europe, so we added coats, ski pants, and toques. I've been saving up a few seasons of TV shows I like on DVD. In the end we decided to add a fifth bag to save our marriage from cut throat negotiations on whether his "Strength Band Training" book or my tabbed file folders (the ones in France don't have tabs) was the more frivolous.
Final tally: five 50 pound bags plus 4 carry ons. About 300 pounds.
The remaining challenge – how to get all this luggage on and off the train. Fortunately we didn't have any connections, the girls were helpful, and there were escalators in all but one place.
We are now in the Languedoc with all 300 pounds. But every time we shop we remember that everything needs to weigh about the same when we leave next July.
September 4, 2013 Comments Off on One Year, 300 Pounds
Our family was in Paris for Christmas in 2010, so it was not completely new to the kids. But it was cold last time we went so we stuck to mostly inside things. This time we wanted to see more sights so we bought an "all-you-can-eat" Métro day pass. This naturally required us to take the Métro multiple times to get our money's worth.
We started with the Arc-de-Triomphe, then went on to Montmartre. We found out that the Montmartre funicular, used to go up the hill to the Cathedral, was included in our day pass so we took that short ride. Up we went, checked out the Cathédrale du Sacré-Coeur, saw a funny show by a busker, and then came back down.  By then the girls were ready to call it a day so we took the Métro back to our hotel near Gare de Lyon.
Brain experts claim that we remember things by making associations to familiar experiences. That night, we asked the girls what they liked best during the sightseeing tour. Z summarized it in terms of the familiar:  "I liked the Arc-de-Gaul." Translation: the Arc-de-Triomphe. It is located at the Charles de Gaulle roundabout, and Astérix (from the Asterix and Obelix cartoon) is a Gaul. Hence Arc-de-Gaul.
I said my favorite was the Cathédrale du Sacré-Coeur. But apparently the girls found it disappointing since they thought we were going to visit "Sucre Coeur" (sugar heart) and they were expecting to visit a candy store!
August 25, 2013 1 Comment