Category —
JM's Perspective
France is usually not known for entrepreneurship.  The 35 hour work week and hopes for a safe government job are the more typical stereotypes.  Coming from entrepreneurial Silicon Valley, the last thing I expected to meet in the Provençal countryside are fellow entrepreneurs.  Of course I should have known better.
There is a recession in France, just like everywhere else.  New grads coming out of school can't find jobs, just like everywhere else.  So they're making opportunities for themselves.
You may recall Diane's earlier post regarding Ivan Des Pizzas, the owner, operator and chef of the local pizza truck. Ivan has all the traits of a true entrepreneur, truly dedicated to his business.  His pizza truck visits a different village seven days a week, showing up at around 4:30pm until business stops at around 10pm or so. Judging by how busy he is, his business is thriving.
I bought two pizzas from Ivan the other day and asked him when he planned to expand his great operation to America.  His reply:  "I would love to, but it's a long drive for my truck."
Introducing Vegetable Luc
School is off in France on Wednesdays.  We like to use those days to take the girls and check out the area.  We visited a nearby fortified medieval town, built in the 11th century.  We saw many cool things, including an old church that had entombed some prominent nobles who passed away in 1650.  But to the girls, the highlight was meeting Luc at the "lavoir du village" – the town's main fountain where in times past, people came to wash their clothes. Luc was there, with a large bag of tasty yellow beans that he had just picked.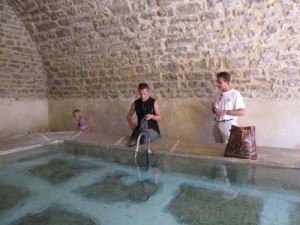 We started chatting, and of course, recognizing my French Canadian accent, he told me how he wanted to visit Montreal one of these days.  But soon, his entrepreneurial instincts kicked in, and he offered to sell me a kilo of his yellow beans. Once I showed interest, he then mentioned his super sweet and tasty pastèques (watermelons).  The girls picked up on that, so for a few Euros, we got a kilo of beans and half a watermelon.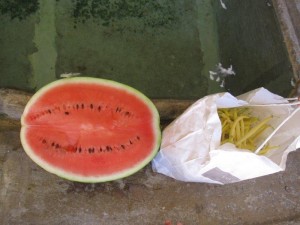 But Luc's entrepreneurial instinct didn't stop there.  He gave me his cell phone number, just in case we'd want freshly delivered vegetables every week – he's only a phone call away.
October 7, 2010 5 Comments
Diane mentioned in a previous post that our kids can't take lunch to school. However, lunch is provided if you pay for it.  Here is last week's menu at the cantine (pronounced like canteen):

A few observations:
Every meal is at least a four course meal
There is emphasis on marrying a variety of tastes, and an obvious effort is put into making the meals wholesome, well-balanced and nutritious
The kids love it even though it's

NOT hot dogs or mac and cheese

This costs only 2.20 Euros per meal (about $3)
The school lunch break is 

1 ½ 

hours long
L was telling me about her lunch on Monday, with a huge smile on her face while rubbing her belly:  "C'était vraiment bon et j'en ai demandé trois fois!" (It was really good and so I asked for three servings!).  Need I say more?
I was listening to a radio interview with a dietitian the other day.  The topic was school canteens, and the quality of the food being served there.
The dietitian on the radio had quite a different perspective than I have.  To start, he was concerned that meal quality was going downhill at an alarming rate, and wanted to petition the local government to tighten the quality standards.  But then, he said something that summarizes it all. "Nutritious food choices and good taste are learned at a young age.  It is therefore important for schools to properly develop children's taste buds by serving consistently high quality and nutritious meals at the canteen."
Everyone knows that food is a serious matter in France.  We didn't realize it would be part of the school curriculum though.
Personally, I wish I could eat at the school canteen myself!
October 4, 2010 8 Comments
Hello World!  This is JM's first post.
France is famous for its bureaucracy.  But we've discovered that the natives are aware of this, they help each other simplify things, take short-cuts and make their lives more enjoyable in spite of it. Indeed, we've seen that this part of Provence is about the community and helping each other out.  This "community approach" here in the village has become quite apparent during our first hectic week, when many people went out of their ways to help us get settled.
Case in point:  We tried getting cell phones a couple of days ago.  The lady at the store was very friendly and helpful at explaining the variety of phone plans in their intricate levels of details.  However, we hit a snag.  In order to have an affordable plan, it needed a contract, which needed a bank account.  But getting a bank account in France requires a utility bill under our name which, of course, we don't have since we are "seasonal" renters.
Coming to the rescue is our friendly neighborhood village Mayor!  I saw him last Sunday at the local café and I explained our bank account dilemma.  His reply:  "Let me talk to the local bank manager, first thing Monday morning, and see what I can do".  The bank was closed on Monday, but the Mayor was going to see the bank manager socially.
Monday morning, 11am.  Someone knocks at our door.  The Mayor shows up, with a smile and a formal letter in hand complete with the official seal of the village.  The letter states that we are residing in the village and have the full rights of a local resident.  Problem solved!  When we went to the bank the next day, we were welcomed immediately and had an account that day.
Merci Monsieur le Maire!  (Thank you Mr. Mayor!)
September 13, 2010 7 Comments