Category —
Kids
We are looking forward to traveling around Europe during the many (many, many, many) school holidays.  For the fall break, we decided to explore Provence. There are a lot of amazing things to see just a short drive from where we are staying, so we set off to find them.
These day trips were (mostly) great – but it was always enlightening to hear the kid version of what we had just seen. Some days it was like they had been in a totally different places than JM and I had.
We visited Vaison la Romaine, a town with a bridge built two thousand years ago by the Romans (it withstood a recent flood that wiped out all the modern bridges) and a fabulous Roman amphitheater. But for the girls, the best part was the old Roman toilets "all in a row".
We visited a beautiful and historic stone overhang thing (not quite a cave) where a famous author used to write  letters.  That night, the kids couldn't stop talking about the very HUGE mushroom they saw beside the parking lot.
We went to the Grotte de la la Cocalière, a truly amazing cave with incredible stalactites and stalagmites reflected in perfectly still water. The next day they wrote a letter to their cousin in Oregon and it was all about the little train that took us back to the parking lot at the end of the cave walk.
It is nice that when things don't go as planned, the kids can find something to else to do very easily. We planned to visit a Troglodyte Village in Bollene. The Routard recommended it for children – and how can you not love cavemen houses? But when we got there we found out that it was temporarily closed for safety reasons.  So we wandered around the medieval part of town and the girls found a pile of leaves to jump in and had a fantastic time. (JM liked the 11th-century church behind the leaf pile.)
More pictures from our fall day-trips in Provence are posted on the Kids and Castles Facebook page.
One of the biggest challenges when planning a year-long trip is figuring out what you're going to bring with you.  We limited ourselves to what we could bring on the plane.  We checked 4 bags that were exactly 50 pounds plus a carry-on each.
One thing that got cut from the list was toys.  The girls each had their kid-sized backpacks and were allowed to fill those with whatever they wanted, but that was it.  All books, art supplies, stuffed animals, magnets, dolls, and other playthings had to fit in that one bag. We hoped this trip would be a good exercise in living with less stuff, and we definitely have less toys.
The children have not suffered.  The house we're renting came with a stash of toys, and an amazing neighbour from the village lent us a stash of her daughters' Playmobils one really rainy day.
They're also being creative.  They learn about living in an earth-friendly way at school, so have decided to "reuse" as much of our garbage as I will let them keep. They have a box full of old bottles, boxes, toilet paper tubes, egg cartons, and more. Yesterday they made this creation:
It's hard to see in the picture, but their garbage castle has towers, ramparts, a stable for the horses, and even a drawbridge!
I did plan to pick up a few small things for them here, so I'm always on the lookout for small, affordable, interesting and time consuming toys. I found this in the museum gift store at Les Baux-de-Provence that seemed like it would be good.
It looked like a fun project for the girls to do. In reality it turned into a time-consuming project for ME. There were 93 separate pieces that had to be cut out with scissors, the paper was heavy, the glue didn't stick, and the tape we had was not good. And it took even longer because of all the "help" the girls gave me.
But I'm proud of my castle, and I will partager (share) it with the kids now that I'm done.
We have been introduced to Guignol, a French puppet from the early 1800s. Guignol's founder was a dentist who made his money by selling pain relievers to people who had their teeth pulled – the teeth pulling itself was free.  Talk about misaligned economic incentives!
A Guignol puppet show was playing in one of the local villages, so we took the girls and went to check it out. It was a traveling show with two people – one puppeteer and one other person who took the tickets and sold stuff at intermission. Apparently they visit more than 50 villages a year to do the show. They set up their tent, put up some posters, and the show was ready.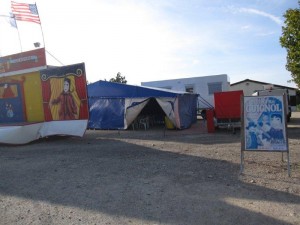 The kids loved the show.  Most of the humor seemed to come from using words wrong. For example, Guignol the puppet was going to visit Madam Le Barrone, but he said "Let's go see Madame Champignon" (french for mushroom) and the kids would yell "NON! Madame LE BARRONE!!"  He'd do that over and over and over.  The kids never got tired of the joke.
By the end of the show all the kids were so into it that they'd run up to the stage to point out what direction to look for a missing puppet. It was very loud but pretty fun.  I followed most of the plot, which was very simple.  I even caught one of the jokes when Guignol was leaving: "Au revoir. "A demain." "A de-pied." (Good-bye. Until tomorrow – but "main" also means hand. A de-pied is nonsense, but pied means foot.)
It was a charming little play for the most part, but then Guignol, our play's hero, came out with a HUGE stick and started beating the crap out of the bad guy. The bad puppet spent the rest of the show lying there like he was dead.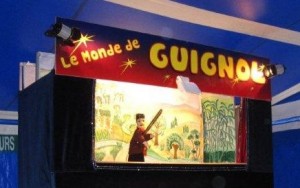 Apparently 200-year old french puppets aren't politically correct about violent behavior.
Diane mentioned in a previous post that our kids can't take lunch to school. However, lunch is provided if you pay for it.  Here is last week's menu at the cantine (pronounced like canteen):

A few observations:
Every meal is at least a four course meal
There is emphasis on marrying a variety of tastes, and an obvious effort is put into making the meals wholesome, well-balanced and nutritious
The kids love it even though it's

NOT hot dogs or mac and cheese

This costs only 2.20 Euros per meal (about $3)
The school lunch break is  1 ½ 

hours long
L was telling me about her lunch on Monday, with a huge smile on her face while rubbing her belly:  "C'était vraiment bon et j'en ai demandé trois fois!" (It was really good and so I asked for three servings!).  Need I say more?
I was listening to a radio interview with a dietitian the other day.  The topic was school canteens, and the quality of the food being served there.
The dietitian on the radio had quite a different perspective than I have.  To start, he was concerned that meal quality was going downhill at an alarming rate, and wanted to petition the local government to tighten the quality standards.  But then, he said something that summarizes it all. "Nutritious food choices and good taste are learned at a young age.  It is therefore important for schools to properly develop children's taste buds by serving consistently high quality and nutritious meals at the canteen."
Everyone knows that food is a serious matter in France.  We didn't realize it would be part of the school curriculum though.
Personally, I wish I could eat at the school canteen myself!
Mostly I think that traveling with the kids is great. They experience the world in a whole different way, which gives a completely different travel experience. On our last visit to a medieval village, JM and I were looking at this interesting church  which was half really old and half super-duper-amazingly-incredibly old. Meanwhile the girls were completely fascinated by the pigeons living in the church steeple. It was fun to watch them watch the pigeons.
Then there are those OTHER TIMES.
When we first arrived we rented a car at the Lyon airport that was big enough for all our year-away luggage – and it was expensive. Once we were settled we decided to do a quick trip to return that car to Lyon, then take the train back to Valence where we could rent a smaller, cheaper car until we could buy something. The girls LOVE trains. This would be a fun family outing. We grabbed the girl's doudous (stuffed animals) and the DSes and headed out.  There was a TGV (French high-speed train) leaving Lyon at 11:30, so we left at 8:30 to give ourselves extra time. Fun day with trains and kids, here we come.
We did hit a bit of traffic on the way to Lyon, so used up the extra time, but were still in good shape.  But then the vomiting began. We immediately formed a new electronics rule – NO DSes IN THE CAR!
Vomiting when you have a barf bag is really no big deal. You fold up the bag, toss it, wash your face (brush if you're lucky) and almost nobody notices. Vomiting without a barf bag a VERY different matter.  So I always travel with a barf bag.
But not that day.  That day I didn't have the barf bag. Didn't have a change of clothes. Didn't have any rags, paper towels or Kleenex.  Didn't even have a bottle of water. I just had a pukey child with pukey clothes in a pukey booster seat with a pukey doudou.
We got most of the mess cleaned up – enough to keep going to the airport. I put Z in my sweater which was a sort-of dress for her, put all the vomitty stuff in the backpack, and we made it to the train just in time.
JM had arranged to pick up the new rental car at the "Valence TGV station". We got to Valence and grabbed lunch, then found the Avis counter at the train station to pick up the car.  But apparently the TGV we were on didn't go to the Valence TGV station, it went to the Valence Ville station. We had to grab another train – leaving in 2 minutes of course, so we had to rush the girls through another train station – to get to where our rental car actually was.
We finally got the new rental car and were less than an hour away from the house. Then we hit THE TRAFFIC JAM.  It took us two hours to travel 10 kms (6 miles)!!!  And remember that new NO DSes IN THE CAR RULE? It didn't last for more than 3 hours.  The kids needed something to keep them busy while we sat on the road doing absolutely nothing.
It turned out a paper truck had turned over on the freeway.
We did get home that day – very late, very hungry, and very smelly. We will get better at this. To start, the car now has a stock of barf bags ready to go for next time.
Both L and Z really like the money in France.  They think it's pretty and like all the different colors – just like Junior Monopoly. They asked why American money is all the same.  I don't know the answer.  Anybody?
They went to the "downtown" of our village with JM to see if the ice cream place was open – of course it was the one day of the week that it's closed down. But they got to explore some very cool medieval architecture, narrow twisty roads, saw a horse and rider go by, and play on the playground.  What did they like the best?  The Grasshopper!!!
They went to a neighboring village and there they saw their first castle of the trip – where they also did find ice cream. That was cool for them, although they got there 20 minutes before it closed so didn't get to go inside.  But they had their ice cream so they were o.k. with that.
My children are impressed with the oddest things.  I will embrace it as "the wonder of a child".
Last night we had a combo birthday/farewell party at our place, and the amazing artists from Adventure Balloons were here. They could do anything – motorcycles, giraffes, fish, even a totally cute flower ring.  So JM asked for an Eiffel Tower.
I know it's RIDICULOUS, but one of the big decisions to make for this trip to France was whether or not to buy a Nintendo DS for each of the girls.
(What is the plural of DS?  DSes? DSs? Many DS? DI?)
Under normal circumstances, I probably wouldn't get a toy like that for my kids until they were a bit older. Not that I think there's anything wrong with video games for 5 and 6 year olds, but I wasn't itching for the daily battle about "screen time" to expand any sooner than it had to. We have reached a pretty good place with our "TV-turning-off" skills, so having obtained "screen-peace" for at least a while, I wanted to savor that.
But we will be doing a LOT of traveling over the next year, and the DS does have a rather remarkable battery life, and it is more interactive than the DVD player (justify, justify, justify…)  so I decided to go ahead.
It's turned out pretty much exactly as I expected – with one notable exception. The kids spend hours happily playing with them on a plane or in the back of the car.  It's a good thing.  Plane rides are hard on little people. And on the flip side when we're not traveling, we do fight about how much they can play.  I'm sure we'll figure that out with time, but right now it's driving me crazy.
The Exception: I didn't realize that *I* would have to learn the games so that I could teach them how to play.  And I really didn't expect that I would get hooked on Super Mario Brothers. This is frankly embarrassing for a woman who is turning 40 to say, but that is a really GREAT game. I missed it 25 years ago when most of my generation went through that phase, but I'm definitely a fan now.  Thankfully 25 years later we have the internet with "guides" and "cheats". I didn't even know what a cheat was two weeks ago.
Now my problem is waiting for L to go to bed so I can get my turn playing, or convincing them that they need Mommy's help to get more "fire guys" during their allotted playing times. And I must figure out how to get the kids to sleep on the plane so I can get past the second world before we get to France.
The kids are old enough to sort-of understand what it means to go to France for a year, but not completely get it. We've had a lot of lead time on the trip, so we are trying to prep them bit by bit. One part they really aren't getting is the "helping Mommy with French" part. (They are both fluent in French, and I'm not.)
Last summer we vacationed in Quebec.  It was an amazing trip. The province is very beautiful – especially in August when the blueberries are ripe and the mosquitoes are mostly dead. I was at the beach with L and Z playing a game where I was picking them up and throwing them in the water when a little girl came up and spoke to me in French.  I was pretty sure that she was asking me to toss her in the water too, but it's the kind of thing you want to be COMPLETELY sure about. So I asked L to help me understand what the little girl wanted. She turned to the girl and said "Ma maman ne parle pas français"  (My mom doesn't speak french.)  NOT HELPFUL!!!
After that experience, I figured I needed to prep them so they might be more useful in a similar situation when we are in France. But it's backfiring.  Instead they have become convinced that I'll never speak French and are saying things that are downright discouraging:
Z:  "Mommy, you're going to struggle in France because you don't speak French."
L:  "How will you talk to anybody in France. You won't be able to buy food without Daddy's help."
And Z's latest helpful idea:  "Maybe you can teach the people in France to speak English".
The children have no faith in me.  Sigh.